Welcome To JFreeChart!
JFreeChart is a free 100% Java chart library that makes it easy for developers to display professional quality charts in their applications. JFreeChart's extensive feature set includes:
a consistent and well-documented API, supporting a wide range of chart types;
a flexible design that is easy to extend, and targets both server-side and client-side applications;
support for many output types, including Swing components, image files (including PNG and JPEG), and vector graphics file formats (including PDF, EPS and SVG);
JFreeChart is "open source" or, more specifically, free software. It is distributed under the terms of the GNU Lesser General Public Licence (LGPL), which permits use in proprietary applications.
For a closer look at JFreeChart, please try our JFreeChart Demo (web start) or browse the Samples page.
Latest News
1 Jan 2013
Happy New Year from the JFree team!
11 Sep 2012
A development version of JFreeChart is now hosted on GitHub.
21 Nov 2011
JFreeChart 1.0.14 has been posted to the download page at SourceForge.
28 Sep 2011
JFreeChart 1.0.13 has been downloaded more than 430,000 times from SourceForge.
20 Apr 2009
JFreeChart 1.0.13 has been posted to the download page at SourceForge.
31 Dec 2008
JFreeChart 1.0.12 has been posted to the download page at SourceForge.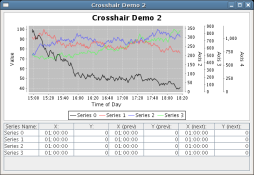 The Project
The JFreeChart project was founded twelve years ago, in February 2000, by David Gilbert. Today, JFreeChart is the most widely used chart library for Java (see a list of some of the products and projects that use JFreeChart), with version 1.0.13 reaching more that 450,000 downloads to date. The project continues to be managed by David Gilbert, with contributions from a diverse community of developers. If you are interested in joining the project, please see the Developers page.


Funding
Funding for the project is provided by Object Refinery Limited, David Gilbert's private limited liability company based in the United Kingdom. Object Refinery sells documentation for JFreeChart.