Class ClusteredXYBarRenderer
All Implemented Interfaces:
---
public class ClusteredXYBarRenderer
extends XYBarRenderer
implements Cloneable, PublicCloneable, Serializable
An extension of
XYBarRenderer
that displays bars for different series values at the same x next to each other. The assumption here is that for each x (time or else) there is a y value for each series. If this is not the case, there will be spaces between bars for a given x. The example shown here is generated by the
ClusteredXYBarRendererDemo1.java
program included in the JFreeChart demo collection: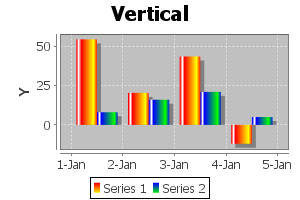 This renderer does not include code to calculate the crosshair point for the plot.
See Also:
Constructor Details

ClusteredXYBarRenderer

Default constructor. Bar margin is set to 0.0.

ClusteredXYBarRenderer

Constructs a new XY clustered bar renderer.

Parameters:

margin - the percentage amount to trim from the width of each bar.
centerBarAtStartValue - if true, bars will be centered on the start of the time period.